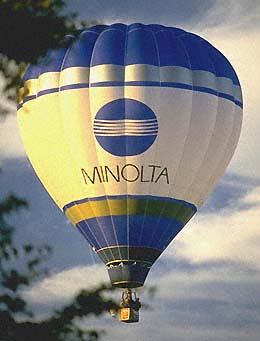 My first balloon was a 90,000 cubic ft. Thunder & Colt
built in England. From 1986 to 1991, I operated the
Minolta corporate balloon, flying 6 months each year
at balloon events across Canada, throughout the United
States and in Australia. Over the course of the program
an estimated 22 million people saw the balloon at various
events. I carried over 1000 passengers on over 400 flights.

I have organized 4 international balloon events:

1983 * America's Cup Yacht Race Balloon Rally in
Newport, RI
1984 * St-Jean-sur-Richelieu Balloon Festival and the
CAN-AM Challenge Cup near Montreal.
1985 - "Destination Canada" International Balloon
Competition in Ottawa, Canada.
1986 - Inter-Provincial Balloon Race between pilots from
Quebec & Ontario - Point Calumet, QC.