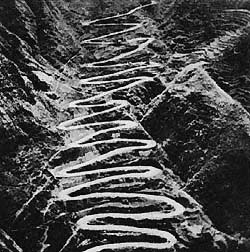 The Air Transport Command was given the task of
supplying the US and Chinese armies with materiel,
returning wounded and sick troops and carrying
war-important personnel. Thousands of Douglas C-54's
like the one shown above flew the nearly 11,000 miles
from New York to Kunming, China - a route that passed
through Newfoundland and the Azores, Casablanca to
Cairo, on to Calcutta and into Karachi where the final leg
of the trip passed above the Himalayan Mountains. The
"Hump" as it was known, claimed many an aircraft with
minimum altitudes of 17,000 feet and incessant bad
weather. Armed with an oxygen mask and a prayer,
thousands of passengers made the journey along with
tons upon tons of vehicles and parts.