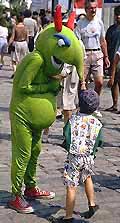 .
The last weekend of the Jazz Festival marks the beginning of "Les Nuits
Afrique", another 9 days of music from the Caribbean and Africa. The
comedy festival "Just for Laughs" is next and the list goes on - A Buskers
Festival, the Montreal World Film Festival, the Tour de l'Isle - the largest
bicycle tour of its kind - through the streets of Montreal. There are also
numerous ethnic celebrations paying homage to Greek, Portuguese,
Caribbean, Chinese, Irish and the other communities that comprise the
fabric of Montreal. And of course we cannot forget June 24 - Saint Jean
Baptiste Day - the patron saint of the Quebecoise. And there are any of
hundreds of other activities to occupy one's time - from many performers
on the streets of Old Montreal and the quaint rue Prince Arthur pedestrian
corridor with its many restaurants ... to the Botanical Gardens, the Biodome,
the Museum of Fine Arts and many wonderful parks.