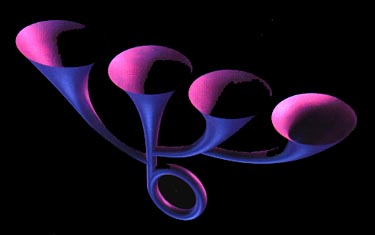 Multiple universes grow like branches from a tree trunk in a
model that allows the universe to create itself - NGS Artwork
Where do we come from? This is the question
man has been asking ever since he became
self aware. Among the more popular theories
for the origin of the universe is the "Big Bang"
Theory - that everything began with a single
explosive event and that the universe is in a
process of continual expansion. According to
this theory, one day we will suffer the "Big Crunch"
when gravity causes it all to collapse again.

Instead of a single expanding universe, Stanford
University physicist Andrei Linde suggests that
chaotic inflation gives rise to multiple universes
eternally producing new universes. With this
theory, the origin is pushed to an infinite past.