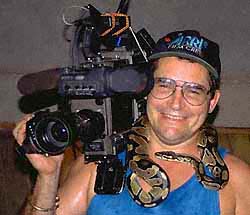 Tony, our veteran cameraman and producer endured a
number of hardships including the "Temple of Serpents"
in Ouidah - Benin, the cradle of voodoo. We are currently
in the process of completing the first one-hour program
and plans are underway to shoot the next episode in Ghana
during September. Future episodes will take us to Senegal,
Nigeria, Mali, Cote d'Ivoire, Tanzania and Egypt.

We are a full service production unit committed to quality
productions from conception to completion. We maintain
our own broadcast quality video and audio equipment,
lighting, and comprehensive post-production facilities.